About Us
Our objective is to provide a hub for our community being a resource, information centre and focal point within the community: to promote learning, social interaction and the sharing of knowledge. To foster and encourage all forms of arts and crafts, hobbies and leisure time activities.  To provide: Education programmes including fitness, first aid, learner licence and special interests groups, to have spaces for community groups and individuals to hire, to be a place for small/medium groups to call home and run their activities.
We create opportunities for genuine community partnerships, and nurturing community development and place-based initiatives while working alongside other organisations. It is a wonderful collaborative community project which will help neighbourhoods to become more self-sufficient.
How We Work
The Community House operates as an Incorporated Society, with Charitable Status CC 23705 and is governed by an executive committee that meets monthly. Our building is fully accessible with ramps, wider hall and doorways and fully equipped toilet facilities
The house has a full-time Manager and Administrator who can be contacted during normal working hours,  and  a part-time Out of School care Supervisor and staff. We are funded by contracts with Auckland Council and Waitakere Ranges Local Board and Ministry of Social Development and Education. We also reply on  contestable funding, donations, fundraising and income from courses and renting our spaces.
Committee
Chairperson – Natalie Makeef
Vice Chairperson – Gayle Marshall
Treasurer – Michelle Clayton
Minute Taker – Carol Burgin
Committee Members – Kyle Turner, Dinesh Gautan, Tere Tuakana-Kapi,   Aroha Te Namu, Dave Krause & Corey Krause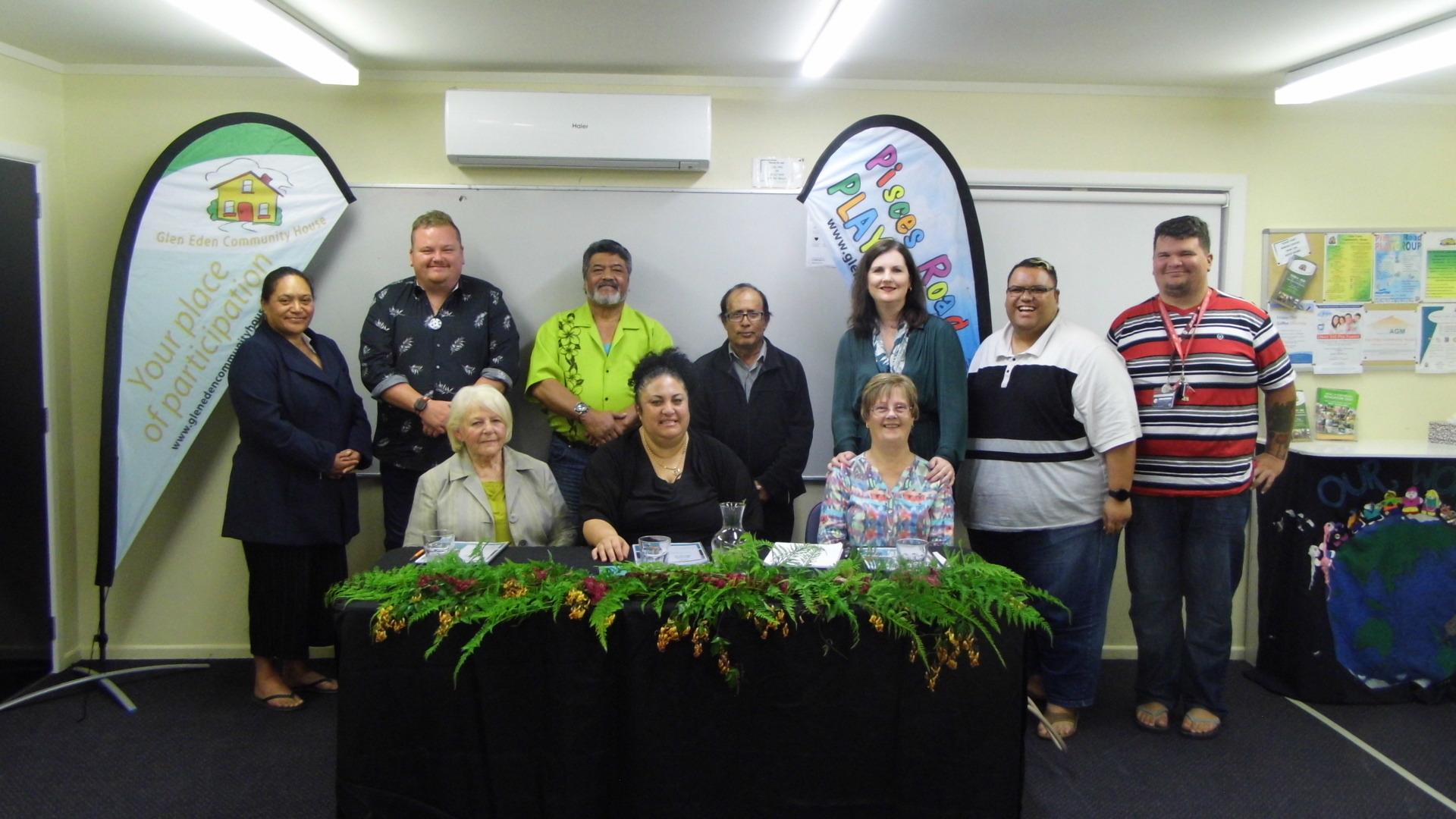 History
The Glen Eden Community House is located within Prospect Park on Pisces Road, which has been its home  for over 40 years. The house was donated to the people of Glen Eden and relocated from Daraville in 1989  with support and funding from Glen Eden Borough Council.
Placeholder
Mid 1970's
In the Mid 1970's mothers in the area with their children were meeting in each other's homes and started an informal Playgroup. As the numbers grew, they realised the necessity to have a meeting space, so the families lobbied Council for a building for them to hold their play sessions, community classes and other community activities.
17th September 1980
 A public meeting was held to explore the possibility of a Community House for Glen Eden a steering group was formed at the meeting: Anne Newell, Glen Bryant, Eva Tamura, Jacquie Tidbury, Peter Martin, Carol Paisley, Corinne McKay, Renate Morison and Vale White
22nd April 1982
 The Glen Eden Community House was incorporated
1st October 1989
Dedication of the Land at Prospect Park 13 Pisces Road by Mayor Janet Clews. Information on the proposals was shared by Diane Bowering from the steering Committee
9th November 1989
 A public meeting was held at Prospect School Hall to discuss the role of the House in the local area and elect in a Management committee.
10th February 1990
 Official Opening at 10.00am of the Glen Eden Community House by Mayor of Waitakere Assid K Corban
8th October 1991
First Tenancy Agreement was signed between Waitakere City Council and Trish Steel Chairperson for the House
Around 1994
 The committee with Waitakere City Council developed a 3-stage extension Plan for the House and Prospect Park
1997
The House was broken into and parts of the building was damaged by fire, with the damage that occurred the Council decided to implement the 3-stage extension that was developed in 1994.
2002
Stage 2 of the 3-stage extension was completed adding car parking for 30 cars
2003
The play area was extended, first by  extending the  fencing  which was supported by Waitakere City Council and a grant from The Portage Licensing Trust for a  Purpose build preschool age playground with safety matting.
2004
Stage 3 of extension Plan was completed adding on the (Now) Nikau Room, additional toilets, and storeroom.
12th August 2006
 Gained IRD Tax exemption as a Charity Organisation
11th May 2008
 Registered as a Charitable Organisation
15th October 2019
 AGM – Chairperson of more than 20 years Tere Tuakana-Kapi resigned